It's a tough thing being in the job market. You make up a CV and send it out by the truckloads. You write it and rewrite it; you peddle the pavement until you stop wearing shoes, as the leather's started growing from the soles on your feet. If you ever do get feedback from a prospective employer, the message is that you're overqualified, under qualified, didn't have the right experience or you smell like band-aids. It's hard.
As a frequent hiring manager for my projects, I wanted to let you know, it's not personal. It might feel like it sometimes when you keep getting passed over, but you're not a relic, and your contribution is vital. It's your job to make me see that so I'll beat my recruiter's door down to get you into my office!
For starters, you might be looking at a job spec. I'll tell you a secret: the job spec is a red herring. When we hiring managers sit down to write them, we're trying to put into words what we think we need. While the high level stuff might be accurate, "need a project manager, need a business analyst, need a Pega developer", the details generally aren't. "PMP required, 4 years experience in Java, ability to spin into a Wonder Woman costume"…they all point to my (very) subjective guess at my real requirements. The fact is, one persons' 6 months working with Java could be worth 10 years of someone else's experience. But I need a benchmark so I make stuff up using my judgement and maybe the input of one or two other people, and the job spec winds up in the newspaper next to your Corn Flakes.
You have to remember, if you're starting with a job spec, the only thing you can really count on is the high level requirement. That is, if I'm after a business analyst, I probably don't want a veterinarian. Everything else you may try to tailor to my (let's be honest) dysfunctional request is an attempt to second-guess my guesses. If I knew in so much detail what I really needed, I'd hire a monkey from the zoo and micromanage it. As a professional, I hope you want the opportunity to shine on your own after I hire you–which means you need to be able to help me discover my needs.
The entire hiring process is so "cart-before-the-horse" it's amazing our civilization made it as far as it did.
Whether you have a job spec to go by or not, you've got a CV you want to get under my nose. You want me to call you up and give you a chance to sell me on how awesome you are. But hundreds of other people are doing the same thing. I can't keep up with the volume so I have to set guidelines on what I do and don't have time for.
So you wanna know another secret? CVs that benefit ME stay on my table, CVs that don't benefit ME go in my dustbin. It's that simple. And yes, I'm really that selfish: my project, my budget, my time. When I finally hire you, we'll build a relationship and I'll stop thinking about you in those terms, but before then, I have nothing else to go by!
So how does your CV get a hiring manager's attention? The best thing you can do is stop talking about yourself.
"But Geoff," you cry incredulously. "You must be MAD how else can I show you what I've done?"
Not so. I want to hear about your customers. In the third person. I want to hear about what they did, got or made as a result of you being there. THAT'S your selling point. Your customers' lives changed because of your work. Without you, they wouldn't have been able to do / get / make what they did…at least not in that same fashion. That really does make you special, and I need to know that!
I know the last thing you want to do is rewrite yet ANOTHER version of your CV, but a good exercise is, when you're looking it over, can you stick the words "my customer got" at the front of each bullet point and have it make sense? If not, you're probably writing about details that would make my eyes glaze over faster than a bored heifer at the State fair. Try these out:
"My customer got $5000 bazillion dollars in new revenue."
"My customer saved $5000 bazillion dollars."
"My customer saw true teamwork for the first time."
"Everyone at my customer got to have cheap special chachkis to make their lives easier."
"My customer was able to not get eaten by Godzilla that time he rampaged through town."
"My customer was so successful they got to rebrand with new awesomeness as a side-benefit."
Of course I know it was you who were responsible for those things. You don't need to point that out because you've already told me it was YOUR customer. It also tells me that you care about your customer, and are proud of your customers results. It tells me you're not just in this for yourself.
And THAT is something I want to hear!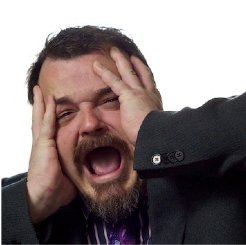 Geoff Crane is the PaperCutPM, after 22 years in the trenches of a lot of tough projects, he decided to change direction a little bit and focus on sparking ideas in the vibrant field of project management. Originally from Waterloo, Ontario, Geoff provides consulting and mentoring through PapercutPM. You can also follow Geoff on Twitter at @PaperCutPM
[ad#dbanner]
Image © Rob Young and used with permission.